Chapter 9 Race and Racism in Digital Media
What Can Critical Race Theory Contribute to Research on Techno-Cultures?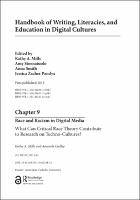 Author(s)
Mills, Kathy Ann
Godley, Amanda
Language
English
Abstract
At the forefront of current digital literacy studies in education, this Handbook uniquely systematizes emerging interdisciplinary themes, new knowledge, and insightful theoretical contributions to the field. The chapter topics identified through academic conference networks, rigorous analysis, and database searches of trending themes are organized in five thematic sections: Digital Futures; Digital Diversity; Digital Lives; Digital Spaces; Digital Ethics. This essential guide to digital writing and literacies research, with transformational ideas for educational and professional practice, will enable researchers to position their studies in the field and to generate new themes of inquiry.
Keywords
cosmopolitan, transnational, culture, digital literacies, education, diversity, language, research, media, writing, communication, critical, youth, students
ISBN
9781138206304, 9781138206335
Publication date and place
2017
Grantor
Imprint
Routledge
Classification
Curriculum planning & development
Literacy
Pages
13