Auf die Lernbegleitung kommt es an!
Konzepte und Befunde zu Praxisphasen in der Lehrerbildung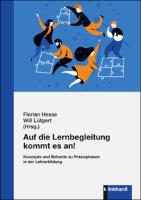 Contributor(s)
Hesse, Florian (editor)
Lütgert, Will (editor)
Language
German
Abstract
Within and outside Germany, practical phases in teacher education have been expanded in recent years. In contrast, empirical studies show that it is not primarily the duration of the internships but their qualitative design that is significant for the acquisition of competencies by the students. Against this background, the academic examination of concepts of learning support is gaining in importance. The authors in this volume take up this assumption and present ten context-bound learning support concepts and their empirical examination. Using qualitative and quantitative research methods, theory-based hypotheses are tested and framework conditions are included in the discussion. In this respect, the results of the studies presented promise on the one hand in-depth insights into the opportunities and challenges of learning support services in the school internship, and on the other hand they point to desiderata for further studies in this field of research.
Innerhalb und außerhalb Deutschlands wurden in den vergangenen Jahren Praxisphasen in der Lehrerbildung ausgebaut. Empirische Studien zeigen demgegenüber, dass nicht vorrangig die Dauer der Praktika, sondern ihre qualitative Ausgestaltung bedeutsam für den Kompetenzerwerb der Studierenden ist. Vor diesem Hintergrund gewinnt die wissenschaftliche Auseinandersetzung mit Konzepten der Lernbegleitung an Bedeutung. Die Autorinnen und Autoren im vorliegenden Band knüpfen an dieser Annahme an und stellen zehn kontextgebundene Lernbegleitungskonzepte und deren empirische Überprüfung vor. Mittels qualitativer und quantitativer Forschungsmethoden werden dabei theoriegeleitete Hypothesen überprüft und Rahmenbedingungen in die Diskussion einbezogen. Insofern versprechen die Ergebnisse der vorgestellten Studien einerseits vertiefende Einblicke in Chancen und Herausforderungen lernbegleitender Angebote im Schulpraktikum, andererseits zeigen sie Desiderate für weiterführende Untersuchungen in diesem Forschungsfeld auf.
Keywords
Lehrerbildung; Lehrerausbildung; Lernbegleitung; Praxissemester; Schulpraxis; Pädagogische Praxis; Schulpraktikum; Lehramtsstudent; Kompetenzerwerb; Pädagogische Kompetenz; Lernkonzept; Lehrerbildner; Unterrichtsbeobachtung; Unterrichtsanalyse; Reflexion <Phil>; Mentor; Hochschule; Schule; Peer Group; Lernwerkstatt; Coaching; Lehrberuf; Hochschulbildung; Professionalisierung; Wohlbefinden; Lehramtsstudiengang; Handlungskompetenz; Einstellung <Psy>; Dozent; Lehrer; Feed-back; Interaktion; Gespräch; Besprechung; Unterricht; Audioaufzeichnung; Diagnostik; Kohärenz; Mentoring; Mentorprogramm; Unterrichtsentwicklung; Übergang Studium - Beruf; Qualifizierung; Hochschullehre; Hochschulforschung; Fortbildung; Biologieunterricht; Entwicklungsforschung; Beziehung; Peer-Beziehungen; Kompetenzentwicklung; Kompetenz; Selbsteinschätzung; Tandem-Methode; Geschlechtsspezifischer Unterschied; Kollegiale Beratung; Qualifikationsentwicklung; Austausch; Beratung; Moderator; Moderation; Lernprozess; Grundschule; Außerschulischer Lernort; Lernumgebung; Primarbereich; Ethnografie; Beobachtung; Forschendes Lernen; Belastung; Stressbewältigung; Wirksamkeit; Digitale Medien; Beruflicher Stress; Lehrer-Alltag; Bildungsangebot; Online-Kurs; Auditives Medium; Zufriedenheit; Quantitative Forschung; Qualitative Forschung; Empirische Untersuchung; Empirische Forschung; Interview; Leitfadeninterview; Studie; Fragebogenerhebung; Explorative Studie; Grounded Theory; Evaluation; Niedersachsen; Thüringen; Nordrhein-Westfalen; Mecklenburg-Vorpommern; Hessen; Deutschland; Teacher education; Teachers' training; Teacher training; Practical semester; Semester practical training; Practical training in school; Practice period at school; Student teachers; Teacher educators; Observation of teaching; Analysis of teaching process; Teaching analysis; Higher education institute; School; Peer groups; Learning workshop; Apprenticeship trade; Teaching profession; Higher education; University level of education; Professionalization; Well being; Well-being; Preservice Teacher Education; Competence for action; Competence to act; Lecturer; Teacher; Interaction; Conversation; Teaching; Diagnostic; Learning and teaching development; Teaching improvement; Qualification; Higher education lecturing; University lecturing; University teaching; Academic research; Further education; Further training; Biology lessons; Teaching of Biology; Peer relationship; Skill development; Competency; Self-rating; Gender-specific difference; Counselling; Deliberation; Guidance; Learning process; Elementary School; Primary school; Primary school lower level; Educational Environment; Learning environment; Primary education; Primary level; Ethnography; Observation; Stress management; Educational offer; Educational offerings; Educational opportunities; Educational possibilities; Educational provision; Online courses; Satisfaction; Quantitative research; Qualitative research; Empirical study; Empirical research; Questionnaire survey; Lower Saxony; Thuringia; North Rhine-Westphalia; North-Rhine Westphalia; Mecklenburg-Western Pomerania; Germany; Practice
ISBN
9783781523821, 9783781558212
Publication date and place
Bad Heilbrunn, 2020
Classification
Teacher training
Pages
243