Innovation for inclusive development and transformation in South Africa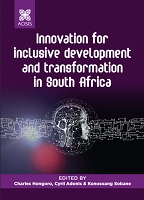 Author(s)
Hongoro, Charles
Adonis, Cyril
Sobane, Konosoang
Scerri, Mario
Kameri-Mbote, Patricia
Kabira, Nkatha
Myeni, Sithembiso L.
Mpungose, Aubrey
du Plessis, Hester
Plantinga, Paul
Lunga, Wilfred
Rule, Stephen
Mustapha, Nazeem
Kruss, Glenda
Petersen, Il-haam
Jegede, Oluseye
van Rheede, Nicole
Contributor(s)
Hongoro, Charles (editor)
Adonis, Cyril (editor)
Sobane, Konosoang (editor)
Language
English
Abstract
Science, technology and innovation (STI) are generally accepted as major drivers of growth and can help address poverty and directly improve the well-being of different groups in society. However, under certain circumstances, STI can reinforce social exclusion and inequalities. This book explores discourses around directionality and the importance of Innovation for Inclusive Development (IID) in addressing policy questions that explore the relationship between IID with inequalities in income and opportunities. It seeks to unpack the concept of IID and what it means in a country such as South Africa – a country characterised by endemic poverty, deepening inequality, and high levels of unemployment. The book is largely original and based on a critique of existing literature to expose specific issues or bolster specific arguments about the role of IID in equitable and inclusive development. This book has been written by various scholars who understand the various notions of IID and how it can possibly be applied and the relevance of such knowledge for policy, programmes and practice.
Keywords
Innovation;inclusive development;transformation;South Africa;challenges;science, technology and innovations;innovation for inclusive development
ISBN
9781779952189, 9781779952196
Publication date and place
2022
Imprint
AOSIS Publishing
Classification
Society & social sciences
Pages
216