Education for sustainable development in BRICS
Zoom on higher education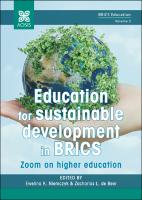 Author(s)
Niemczyk, Ewelina K.
de Beer, Zacharias L.
Wolhuter, Charl C.
Steyn, Hennie J.
Mollo, Nicholus T.
Preston, Lynn D.
Greyling, Susanna C.M.
Taylor, Benita
Neethling, Marinda
Contributor(s)
Niemczyk, Ewelina K. (editor)
de Beer, Zacharias L. (editor)
Language
English
Abstract
In the past ten years, the concept of education for sustainable development has become one of UNESCO's key educational initiatives to address current global challenges. However, the attention was mainly devoted to primary and secondary education, and higher education was somewhat neglected. The primary focus on basic education has also diverted academic attention from the research exploring the relationship between higher education and sustainable development. Only recently has the academic discourse on this topic begun to gain ground. On that note, this book is meant to place higher education at the core of the necessary transformations to create awareness of more sustainable practices and policies.
Keywords
Education for sustainable development; BRICS member states; higher education; higher education revolution; Fourth Industrial Revolution; sustainable development; COVID-19
ISBN
9781779952172
Publication date and place
Cape Town, 2022
Imprint
AOSIS Publishing
Series
BRICS Education,
Pages
254