Disabled People, Work and Welfare
Is Employment Really the Answer?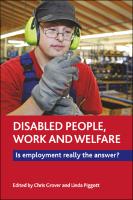 Contributor(s)
Grover, Chris (editor)
Piggott, Linda (editor)
Collection
Knowledge Unlatched (KU)
Language
English
Abstract
This is the first book to challenge the concept of paid work for disabled people as a means to 'independence' and 'self determination'. Recent attempts in many countries to increase the employment rates of disabled people have actually led to an erosion of financial support for many workless disabled people and their increasing stigmatisation as 'scroungers'. Led by the disability movement's concern with the employment choices faced by disabled people, this controversial book uses sociological and philosophical approaches, as well as international examples, to critically engage with possible alternatives to paid work. Essential reading for students, practitioners, activists and anyone interested in relationships between work, welfare and disability.
Keywords
Political Science; Public Policy; Social Services & Welfare
ISBN
9781447318354
Publication date and place
2015
Grantor
Imprint
Bristol University Press
Classification
Social welfare & social services