Von Preußen lernen?
Die preußische Monarchie im Spiegel französischer Reformdiskurse am Ende des Ancien Régime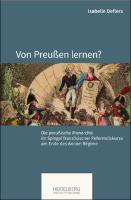 Author(s)
Deflers, Isabelle
Language
German
Abstract
With the end of the Seven Years' War, a period of intensive search for reform ideas began in France an attempt to restore France's supremacy in the international state system and save the monarchy from bankruptcy. The particularly lively interest of the French public in Prussia raises the question of the extent to which Frederick II's state, which was regarded as successful, has served as a model in this reform debate. The book shows by which ways, carriers and means the transfer of knowledge from Prussia to France took place at the end of the Ancien Régime and what function the reference to Prussia actually assumed within self-referential French discussions.
Der Siebenjährige Krieg war eine Katastrophe für das Ansehen Frankreichs. Um den Vorrang der französischen Monarchie im internationalen Staatensystem wiederherzustellen und das Land vor dem Bankrott zu retten, setzte eine intensive Diskussion über Reformideen ein. Die Selbstinszenierung Friedrichs II. weckte in der französischen Öffentlichkeit ein besonders lebhaftes Interesse für Preußen. Aber inwiefern konnte der als erfolgreich wahrgenommene preußische Staat als Modell in dieser Reformdebatte wirken? Die Studie zeigt, über welche Wege und Träger und mit welchen Mitteln in den letzten Jahrzehnten des Ancien Régime der Wissenstransfer von Preußen nach Frankreich stattfand. Die Grenzen dieses Wissenstransfers werden ebenso dargelegt wie die Funktion, die der Verweis auf Preußen innerhalb selbstreferenzieller Diskussionen um die »Regeneration« der französischen Monarchie tatsächlich eingenommen hat.
La guerre de Sept Ans a été un désastre pour la renommée de la France. S'est alors engagée une discussion intensive sur des idées de réforme afin que soit restaurée la primauté de la monarchie française dans le système international des États et que le pays soit sauvé de la faillite. L'autopromotion de Frédéric II a suscité un intérêt particulièrement vif du public français pour la Prusse. Mais dans quelle mesure l'État prussien, perçu comme un modèle de réussite, pouvait-il servir de référence dans ce débat sur les réformes? Le livre nous montre par le biais de quels médiateurs et les moyens par lesquels le transfert de connaissances de la Prusse vers la France s'est opéré au cours des dernières décennies de l'Ancien Régime. Les limites de ce transfert y sont également expliquées, ainsi que la fonction que le renvoi à la Prusse a effectivement occupée au sein des discussions autoréférentielles sur la »régénération« de la monarchie française.
Keywords
Prussia; Frederick the Great; Mirabeau; Imagology; Franco-German Transfer of Knowledge; Preußen; Friedrich II.; deutsch-französischer Wissenstransfer; Wahrnehmungsgeschichte
ISBN
9783968220659, 9783968220642
Publication date and place
Heidelberg, 2021
Series
Pariser Historische Studien,
Classification
European history
Military history
Pages
512