(Schw)Ehre, wem (Schw)Ehre gebührt : Festschrift zur Verabschiedung von Prof. Dr.-Ing. Dr. h.c. Bernhard Heck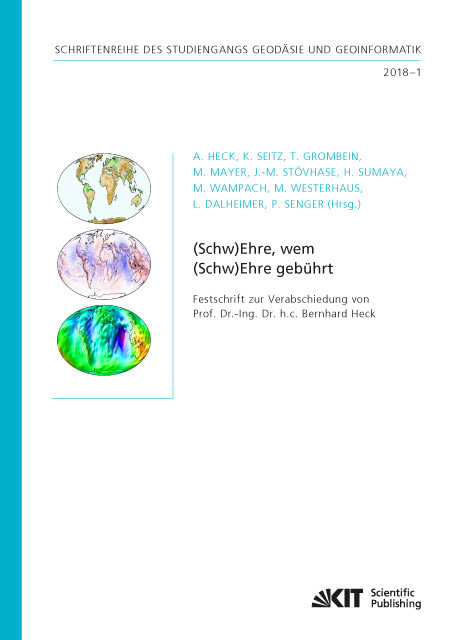 Author(s)
Heck, Alexandra [Hrsg.]Seitz, Kurt [Hrsg.]Grombein, Thomas [Hrsg.]Mayer, Michael [Hrsg.]Stövhase, Jan-Moritz [Hrsg.]Sumaya, Hael [Hrsg.]Wampach, Maryse [Hrsg.]Westerhaus, Malte [Hrsg.]Dalheimer, Lisa [Hrsg.]Senger, Philipp [Hrsg.]
Language
German
Abstract
The commemorative publication in honor of Prof. Bernhard Heck contains 41 contributions written by friends, colleagues, co-workers and former PhD-students. The focus of the scientific articles is on Physical and Satellite Geodesy as well as on geodynamics. It reflects the wide range of academic and scientific research activities of Bernhard Heck. The volume is completed by articles about education at the Geodetic Institute of KIT as well as the importance of Geodesy for society.
Keywords
Physikalische und Satellitengeodäsie; Prof. Bernhard Heck; Geodätisches Institut; KIT; commemorative publication; Festschrift; Physical and Satellite Geodesy; Geodetic Institute
ISBN
9783731507772
Publication date and place
2018
Series
Schriftenreihe des Studiengangs Geodäsie und Geoinformatik / Karlsruher Institut für Technologie, Studiengang Geodäsie und Geoinformatik,
Pages
XX, 308 p.