Die altgermanischen Toponyme sowie die ungermanischen Toponyme Germaniens
Ein Handbuch zu ihrer Etymologie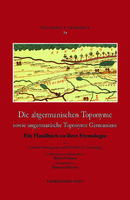 Author(s)
Scheungraber, Corinna
Grünzweig, Friedrich E.
Contributor(s)
Reichert, Hermann (editor)
Collection
Austrian Science Fund (FWF)
Language
German
Abstract
This handbook of Old Germanic toponyms is a comprehen-sive collection of Germanic, possibly Germanic and non-Germanic geographical names of Magna Germania and the adjacent provinces. The selection of headwords is based on Hermann Reichert´s Lexikon der altgermanischen Namen (LaN). In the articles, the current state of research concer-ning the localization of the ancient places (, rivers, forests and mountains) and concerning the etymology and word for¬mation of the toponyms is documented and critically dis-cussed.
Die vorliegende Monographie behandelt systematisch die altgermanischen Orts-, Fluss-, Wald- und Bergnamen bis einschließlich 600 n.Chr. sowie auch die ungermanischen Toponyme Germaniens; in den einzelnen Artikeln wird neben Lokalisierung und Kontext der mit den Toponymen bezeichneten Örtlichkeiten hauptsächlich die Etymologie der Toponyme selbst in Augenschein genommen und die verschiedenen Deutungsversuche der Namen kritisch beleuchtet. Dieser Band setzt somit die Reihe der Interpretationsbände zu Reichert´s Lexikon der altgermanischen Namen (2 Bde.) fort (zuletzt erschienen: Sitzmann / Grünzweig 2008, Die altgermanischen Ethnonyme - ein Handbuch zu ihrer Etymologie).Der vorliegende Band ist ein umfassendes etymologisches Handbuch der altgermanischen Toponyme sowie der unger-manischen Toponyme Germaniens, wofür als Grundlage das Lexikon der altgermanischen Namen (LaN) von Her-mann Reichert diente. Unter den alphabetisch angeordne-ten Lemmata werden die Belege mit Angabe der wichtigsten Lesarten sowie eine Kurzausführung zu Lokalisierung und Kontext gegeben. In den darauf folgenden etymologischen Kommentaren wurde versucht, einen forschungsgeschichtli-chen Überblick über die Literatur zu den jeweiligen Namen durch ein kritisches Referat der bisher geäußerten etymolo-gischen Deutungen mit Wertung nach Wahrscheinlichkeit zu geben.
Keywords
Toponomastics; Etymology; Onomastics; Old Germanic languages and culture; historical linguistics; Philology; Geography; Toponomastik; Etymologie; Onomastik; Altgermanische Sprachen; Germanische Altertumskunde; Historische Sprachwissenschaft; Philologie; Geographie; Altisländische Sprache; International Data Group; Komposition (Grammatik); Nationale Befreiungsfront (Algerien); Suffix
ISBN
9783902575623
Publication date and place
2014
Grantor
Pages
434