How Did Employee Ownership Firms Weather the Last Two Recessions?
Employee Ownership, Employment Stability, and Firm Survival: 1999-2011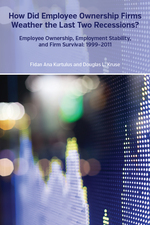 Author(s)
Kurtulus, Fidan Ana
Kruse, Douglas L.
Language
English
Abstract
Employee ownership firms offer workers the opportunity to own a stake in the firms where they work. This affords them the ability to share in profits and have a voice in firm-related decision-making. In this comprehensive new book, Kurtulus and Kruse provide new evidence on whether employee ownership firms are better equipped to survive recessions. In particular, they focus on broad-based employee ownership, which includes ownership at all levels in the firm's hierarchy.
Keywords
Management & Organizational Behavior; Economics
ISBN
9780880995276, 9780880995252
Publication date and place
2017
Classification
Management & management techniques
Organizational theory & behaviour
Economics