Was macht die Digitalisierung mit der Politik?
Einwürfe und Provokationen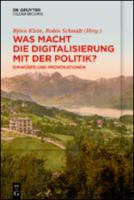 Contributor(s)
Schmidt, Robin (editor)
Klein, Björn (editor)
Language
German; English
Abstract
What role does digitality play in negotiating the question of how we want to live together in the future? How do processes of digitalisation affect the formation of opinion, the shaping of political parties, their communication with voters, the discursive formation of issues, the creation of majorities and their regulation? This volume offers a constructive perspective on the challenges of a society increasingly shaped by digitalisation. In addition to diagnoses of the current situation, the contributions also bring together concepts and speculative drafts for the future that are united by the concern for a more just society. Experts from academia, journalism and practice outline the central results of the second "Dießener Klausur Mensch|Maschine|Zukunft" (Dießen Retreat Man|Machine|Future), which creates a space for constructive drafts, interjections and provocations in today's discourse on digitalisation, which is often characterised by cultural criticism and pessimistic perspectives.
Keywords
civic education; digitalisation; social media; digital society
ISBN
9783110785265, 9783110785227, 9783110785364
Publication date and place
Berlin/Boston, 2022
Imprint
De Gruyter Oldenbourg
Classification
General studies
History
History: theory & methods
General & world history
History: earliest times to present day
Social & cultural history
Pages
171