Made-to-Measure Future(s) for Democracy?
Views from the Basque Atalaia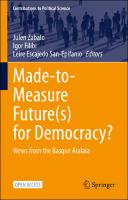 Contributor(s)
Zabalo, Julen (editor)
Filibi, Igor (editor)
Escajedo San-Epifanio, Leire (editor)
Language
English
Abstract
This open access volume analyses the development of democracy at different levels of governance (from local to global). The Basque search for an institutional and democratic model that adapts to its social needs and solves its problems offers an interesting perspective for analyzing the way in which democracy is seeking new forms of materialization from the local to the global. The volume is divided into four parts. The chapters in Part I analyze the tensions between the neoliberal vision of democracy and the voices contesting it, with projections at different levels of government. The chapters in Part II focus on the emerging framework and scales of Western democracy. The chapters in Part III present new forms of citizen participation, paying special - though not exclusive - attention to new practical strategies for Basque society. The volume concludes with a block of chapters on the relevance of reviewing the methodological and epistemological frameworks from which knowledge about democracy and mechanisms of citizen participation is generated (Part IV). By delving deeper into the idea and practice of democratic governance, this volume will be of interest to researchers and students from all disciplines of politics, international relations, sociology and law.
Keywords
Basque Country; Basque society; Western democracy; neolibralism; inequality; citizen participation
ISBN
9783031086083
Publication date and place
Cham, 2023
Imprint
Springer
Series
Contributions to Political Science,
Classification
Politics & government
Political structure & processes
Public administration
Pages
369