On Track or Off The Rails?
Intra-ministerial decision-making in transport infrastructure planning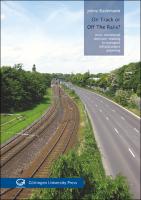 Author(s)
Rademann, Jenny
Language
English
Abstract
In order to achieve a transition from a transport system centred on the individual car to one centred on (electrified) rail a new focus in infrastructure planning is needed. The preparation of project proposals for the Federal Transport Infrastructure Plan 2030 on the sub-national level in Germany provides an opportunity to study decision-making processes in ministries and compare their respective results in this respect. Using document analysis, expert interviews, qualitative content analysis as well as QCA, this thesis in political science analyses how decision-making processes within bureaucracies impact the decision output in transport infrastructure planning. It contributes to the discussion on bureaucracy-politics interactions that is relevant beyond the German case. One result is that ministries tend to use complex decision-making processes for topics deemed salient as long as the available capacity permits it. Consequently, in order to conduct legitimacy-enhancing steps – such as public participation – a well-funded bureaucracy is indispensable.
Keywords
transport infrastructure; planning; Intra-ministerial decision-making
ISBN
978-3-86395-534-2
Publication date and place
2022
Classification
Society & social sciences