Migrants' Attitudes and the Welfare State
The Danish Melting Pot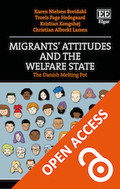 Author(s)
Breidahl, Karen N.
Hedegaard, Troels F.
Kongshøj, Kristian
Larsen, Christian A.
Version
Published
Language
English
Abstract
Analysing two major surveys of 14 different migrant groups connected to Danish register data, this insightful book explores what migrants think of the welfare state. It investigates the question of whether migrants assimilate to the ideas of extensive state intervention in markets and families or if they retain the attitudes and values that are prevalent in their countries of origin.
Keywords
Migration; Assimilation; Welfare attitudes; Welfare state
ISBN
9781800376335, 9781800376342
Publication date and place
Cheltenham, Gloucestershire, UK, 2021-01-15
Classification