agency@?
Cyber-Diskurse, Subjektkonstituierung und Handlungsfähigkeit im Feld des Politischen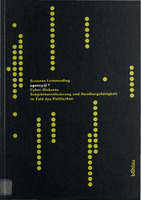 Author(s)
Lummerding, Susanne
Collection
Austrian Science Fund (FWF)
Language
German
Abstract
Considering the abundant promises and euphoric expectations (as well as apocalyptic visions of technology) that still dominate discourses on media and technology my analysis focuses on their cultural and social condition, the specific moment of their emergence, their continuous persistence, their socio-symbolic function, and their implications for social contexts of thought and perception and for hegemonic relations. The techno-deterministic notion of a 'paradigm change', the proclamation of a 'radically new' definition of the subject and the idea of a technically conditioned abolition of traditional dichotomies is in fact contrasted by a striking adherence to conventional and dichotome models of thought and of representation, and to the idea of an autonomous and technologically perfectionable subject. My analysis will on the one hand focus on the function of exaggerated visions of technological development (predicating a dissolution of space, time, matter and identity) and the function of ideas of 'alternative', 'virtual' 'spaces' for establishing specific notions of 'society' - indicating a specific relation of phantasm and symptom as I will show. On the other hand I will develop the definition of a political subject - not conceived as a sovereign actor, nor as an arbitrary variety, but rather as constituted on the basis of a structural impossibility inherent in language and which alone can be, due to this very impossibility or antagonism a subject of the political. In the course of this argument the notion of sexual difference will be critically revised. Furthermore I will develop a definition of agency adequate to provide the grounds and the argumentative tools for the contestability of cultural and social constructs. My emphasis will be on the interdependencies of these questions and I will base my arguments on a notion of Cyberspace that defines it as a socio-symbolic construct comprising both technical implementations as well as the respective discourses and which continuously has to be negotiated. My approach combines structural psychoanalytical theory, hegemony studies, art theory, film theory, media studies, gender studies and cultural studies. As a transdisciplinary critical theory of representation and considering its statement of problems, as well as its focus, it differs from predominant approaches to current developments of technology to create perspectives on current technological dispositives and media constellations beyond prevalent techno-euphoric or pessimistic views.
Ausgangspunkt meiner Analyse sind die mit der Idee eines Cyberspace nach wie vor verknüpften utopisch wie auch dystopisch überfrachteten Projektionen hinsichtlich ihrer kulturellen und ideologischen Beschaffenheit, des Zeitpunktes ihres Auftretens, ihrer anhaltenden Persistenz, ihrer sozio-symbolischen Funktion sowie ihrer Implikationen für gesellschaftliche Denk- und Wahrnehmungszusammenhänge. Technikdeterministische Vorstellungen eines 'Paradigmenwechsels', die Proklamierung einer technologisch bedingten 'Neudefinition' des Subjekts, die Idee einer Auflösung klassischer Dichotomien und einer Grenzüberschreitung von Raum, Zeit, Materie und Identität stehen in deutlichem Widerspruch zur tatsächlich beobachtbaren Reproduktion nicht nur konventioneller und dichotomer Denkmodelle und Repräsentationsformen, sondern der Idee eines autonomen und technologisch perfektionierbaren Subjekts, die angesichts ihrer zentralen Rolle in aktuellen Mediendiskursen und der Vehemenz, mit der sie zu diesem spezifiaschen historischen Zeitpunkt vertreten wird, einer Erklärung bedarf. Meine Analyse fokussiert auf die Funktion derartiger Technologievisionen bzw. der Idee 'alternativer' virtueller 'Räume' für die Etablierung bestimmter Konzeptionen von 'Gesellschaft' und verweist auf eine für diesen Kontext spezifische Relation von Phantasma und Symptom. Auf der Basis einer Revision des Begriffs sexueller Differenz entwickle ich die Definition eines politischen Subjekts, das nicht einfach als souveräner Akteur oder beliebige Vielfalt zu verstehen ist, sondern sich über einen strukturellen Antagonismus konstituiert, sowie einen Begriff von Handlungsfähigkeit, der die Basis für eine Anfechtbarkeit sozio-kultureller Konstruktionen begründen kann. Meinen Ausführungen lege ich in der Folge einen Begriff von Cyberspace zugrunde, der diesen als sozio-symbolisches Konstrukt definiert, das sowohl technologische Implementierungen wie auch die damit verbundenen Diskurse umfaßt und unausgesetzt neu zu verhandeln ist. Meine transdisziplinäre Herangehensweise im Sinn einer kritischen Repräsentationstheorie verbindet Ansätze strukturaler psychoanalytischer Theorie mit Ansätzen neuerer Hegemonie- bzw. Demokratietheorie sowie der Film- und Medientheorie, der Gender- und der Cultural Studies, um Perspektiven auf aktuelle Medienkonstellationen zu eröffnen, die sich jenseits technikdeterministischer oder kulturpessimistischer Einschätzungen bewegen.
Keywords
Action; cyberspace; political subject; gender; technology; media; critique of representation; Handlungsfähigkeit; Cyberspace; politisches Subjekt; Gender; Technologie; Medien; Repräsentationskritik; Jacques Lacan; Phantasma
ISBN
9783205773276
Publication date and place
2005
Grantor
Imprint
Böhlau
Classification
Society & social sciences
Pages
320