Characterizing National Exposures to Infrastructure from Natural Disasters
Data and Methods Documentation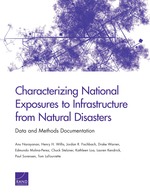 Author(s)
Narayanan, Anu
Willis, Henry H.
Fischbach, Jordan R.
Warren, Drake
Molina-Perez, Edmundo
Language
English
Abstract
This report serves as the technical documentation and reference document for the data, methods, and analytic approach used in the analysis of national exposures to infrastructure from natural disasters. The analysis includes 11 natural hazards and five infrastructure sectors. Analytic findings about current and future exposures of infrastructure in the United States drawn from this data analysis are documented in a separate report.
Keywords
Business; Physics; Population Studies
ISBN
9780833096272, 9780833094582
Publication date and place
2016
Classification
Economic systems & structures
Meteorology & climatology
Population & demography