Employer, Insurer, and Industry Perspectives on Patient-Centered Comparative Effectiveness Research
Final Report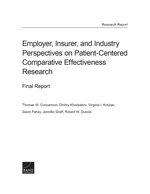 Author(s)
Concannon, Thomas W.
Khodyakov, Dmitry
Kotzias, Virginia I.
Fahey, Gavin
Graff, Jennifer
Language
English
Abstract
On behalf of the Patient-Centered Outcomes Research Institute (PCORI), RAND conducted a series of focus groups to explore the views of payers, purchasers, and industry stakeholders on comparative effectiveness research (CER). This report describes stakeholders' health-related decisions, information needs, and views on being involved in CER. Key themes emerging from the discussions are presented, along with implications for PCORI's future work.
Keywords
Health Sciences; Business; Biological Sciences
ISBN
9780833093738
Publication date and place
2015
Classification
Insurance & actuarial studies
Medicolegal issues
Clinical & internal medicine
Biology, life sciences