Evaluating the Impact of the Department of Defense Regional Centers for Security Studies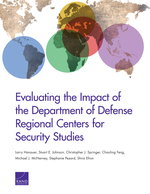 Author(s)
Hanauer, Larry
Johnson, Stuart E.
Springer, Christopher
Feng, Chaoling
McNerney, Michael J.
Language
English
Abstract
The five U.S. Department of Defense (DoD) Regional Centers for Security Studies have been helping partner nations build strategic capacity for almost 20 years. They are high-impact components of U.S. security cooperation and engagement efforts, despite their relatively small budgets. This study analyzes the centers' contributions to DoD policy priorities and the ways in which they assess their programs.
Keywords
Political Science; History
ISBN
9780833086495, 9780833085139
Publication date and place
2014
Classification
Defence strategy, planning & research
History of the Americas
International relations
Treaties & other sources of international law