Whither Al-Anbar Province?
Five Scenarios Through 2011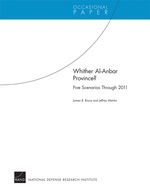 Author(s)
Bruce, James B.
Martini, Jeffrey
Language
English
Abstract
As U.S. forces withdraw from Iraq, significant changes can be expected throughout al-Anbar Province in security, political, economic, and even cultural relationships. RAND convened a series of three one-day workshops at which participants identified five relatively distinct futures, or scenarios, for al-Anbar that provide plausible but alternative trajectories for the province between early 2009 and the end of 2011.
Keywords
History; Political Science; Sociology
ISBN
9780833050816, 9780833048035
Publication date and place
2010
Classification
Middle Eastern history
International relations
Development studies